Visit Guide
The Katsura Imperial Villa is located on the Katsura River in the southwestern area of the city of Kyoto. It was built in stages over a period of almost 50 years from 1615 by the first two heads of the Hachijō-no-miya imperial family, prince Toshihito, and his son, prince Toshitada. The prince had a profound knowledge of classic literature. He chose the land of Katsura because it was described in'The Tale of Genji' written in the Heian Period (794-1185). Being saved from the damage of fire, the buildings retain their original form to the present day. The compound incorporates a large pond which dominates the center of the garden, the palace building and four tea house pavilions. The pond's shape is irregular so that the garden path along the shoreline frequently twists and turns. As this garden design blocks one from seeing too much of the garden at one time, one could enjoy a constantly changing view. The garden is also famous for seasonal flowers such as Japanese apricot in early spring, cherry blossoms, and crimson flowers of azalea in late spring.
Traffic Access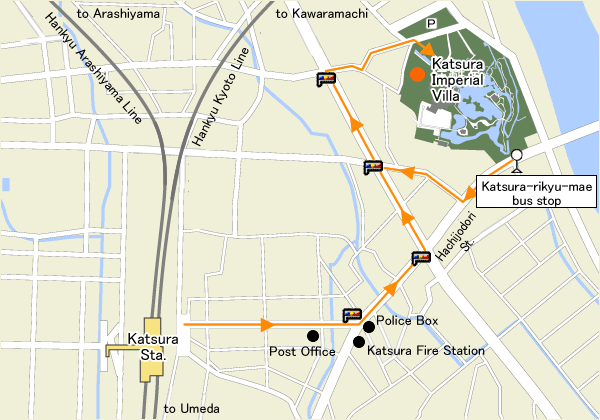 Access
Hankyu Railway: about 20 minutes from Katsura Station
Keihan Kyoto Kotsu Bus: about 15 minutes from Katsura-rikyu-mae bus stop
---
Meeting Spot for the Walk-in Registration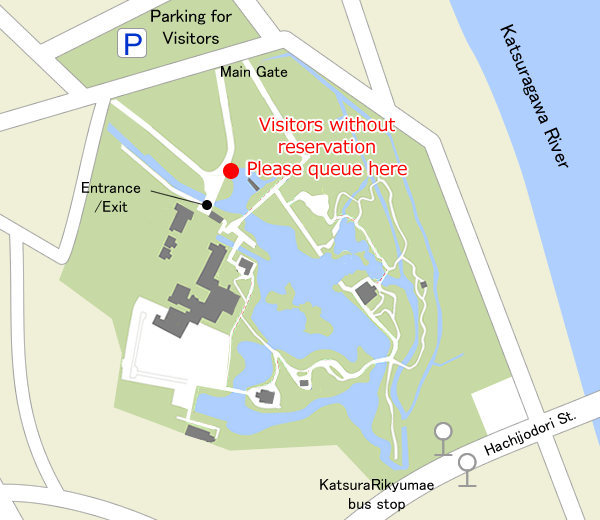 ---
Visitor Information Map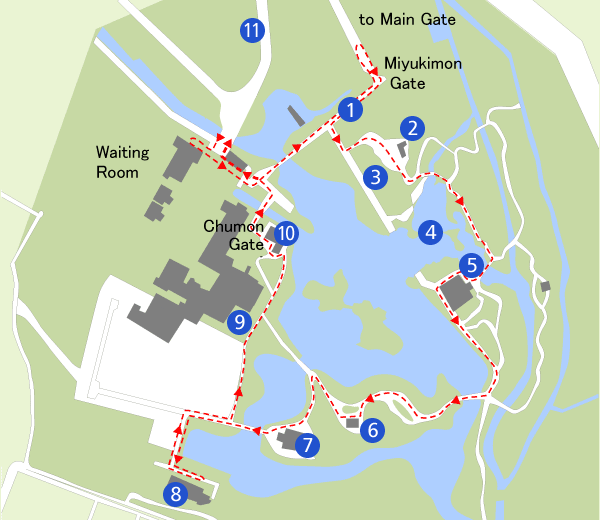 Tour Course
Miyukimon Gate・Miyukimichi Path
Sotokoshikake(Outdoor Bench)・Sotetsuyama(Cycad Hillock)
Sotetsuyama(Cycad Hillock)
Amanohashidate (Stone Arrangement Likened to the Famous Scenic Spot Called Amanohashidate)・Suhama (Shore Covered with Pebbles Likened to Seashore )・Tsuzuminotaki Waterfall
Shrikawabashi Bridge・Shōkintei Pavilion
Shōkatei Pavilion
Onrindō Pavilion
Shōiken Pavilion
Shoin Palaces
Gepparō Pavilion
Omotemon Gate・Katsuragaki Fence・Hogaki Fence
※Some buildings cannot be seen from June 2021 to November 2023 due to repair work.

Back to Top Page
The Imperial Palace, Kyoto Imperial Palace, Kyoto Sento Imperial Palace, and Imperial Villas
Visit Guide