Visit Guide
The Imperial Palace has served as the residential place of the successive Emperors since 1868. It contains the Imperial Residence and the Imperial Palace Complex, where His Majesty the Emperor undertakes official duties. Various ceremonies and public activities are held there too. Other major buildings in the Palace include the building of the Imperial Household Agency and the Palace Sericulture Centre, where the successive Empresses have raised silkworms following the precedent set in 1871 by Empress Dowager Shoken, Empress and consort of Emperor Meiji.
The East Gardens of the Imperial Palace are located on the eastern part of the palace grounds and opened to the public.
The Imperial Palace occupies the main part of former Edo Castle. The castle, first created in the mid-15th century, was massively enlarged at the turn of the 17th century by Tokugawa Ieyasu, the founder of the Tokugawa Shogunate. While Kyoto remained the country's capital, from where the Emperors appointed the descendants of Ieyasu as Shoguns, Edo Castle, as the residence of the successive Tokugawa Shoguns, had served as the political centre of Japan for more than 260 years. It was handed over to the new government formed under Emperor Meiji in 1868. The castle's remnants, such as moats, earthen and stone walls, watch towers and fortified gates are prominent features of the Palace.
Information of the Facilities
Click on a photo for detailed information

For Visitors
Traffic Access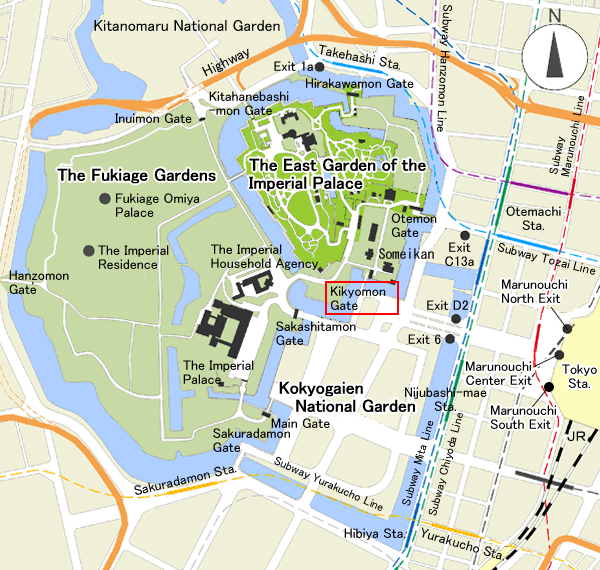 Access
To Kikyo-mon Gate
from subway Chiyoda Line Nijubashi-mae Station (Exit 6): 10-minute walk
from subway Mita Line Otemachi Station (Exit D2): 10-minute walk
from JR Line Tokyo Station (Marunouchi Central Exit): 15-minute walk
---
Meeting Spot for the Walk-in Registration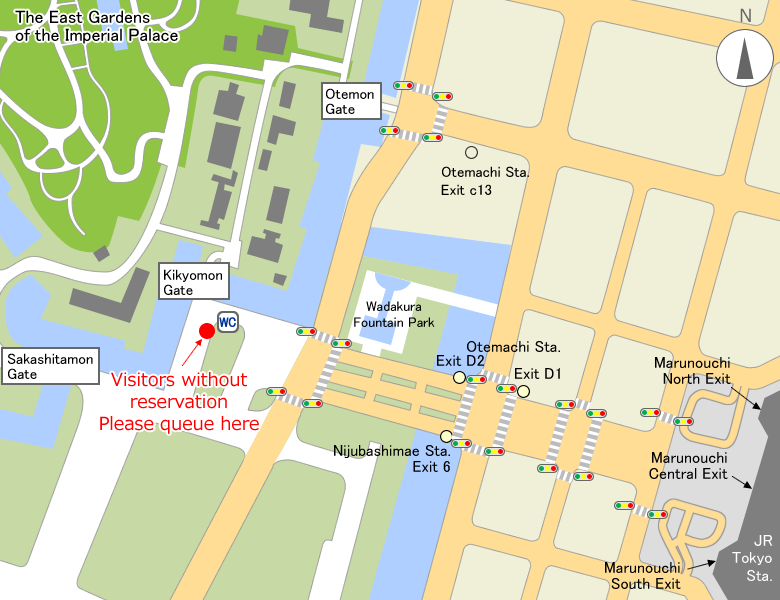 ---
Visitor Information Map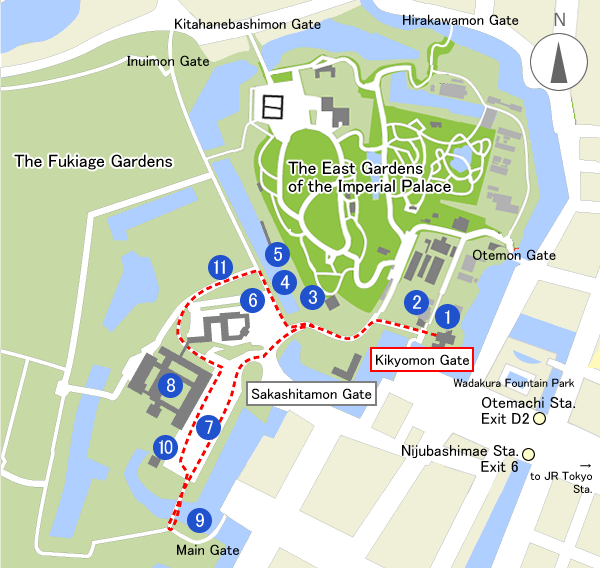 Tour Course (Approximate time required:75 minutes.)
1.Buildings can be seen during the tour
Someikan (Visitors' House)
The former Privy Council Bldg.
Fujimi-yagura (Mt.Fuji-view Keep)
Hasuikebori (Lotus Moat)
Fujimitamon Defence-house
Kunaicho Chosha(The Imperial Household Agency Bldg.)
Kyuden Totei Plaza
Kyuden (The Imperial Palace)
Seimon-tetsu-bashi Bridge (Niju-Bashi)
Fushimi-yagura Keep
Yamashita-dori Street
2.Buildings in the East Gardens
Tenshudai (Remains of the main tower)
Tokagakudo Concert Hall
Gakubu Chosha (Music Depertment Bldg.)
Shoryobu Chosha (Archives and Mausolea Depertment Bldg.)
Bairin-zaka Slope
Shiomi-zaka Slope
Prefectural Tree Emblems
Suwano-chaya Tea House
Doshin-bansho Guardhouse
Hyakunin-bansho Guardhouse
O-bansho Guardhouse
Site of Matsuno-o-roka Corridor
Sannomaru Shozokan (Museum of the Imperial Collections)

Back to Top Page
The Imperial Palace, Kyoto Imperial Palace, Kyoto Sento Imperial Palace, and Imperial Villas
Visit Guide