Visit Guide
The city of Kyoto had been the site of the imperial residence since the relocation of the capital by emperor Kanmu in 794. The Kyoto Imperial Palace had been used as the residence of emperors for 500 years since 1331 until the capital moved to Tokyo in 1869. The palace was repeatedly plagued by fire and was rebuilt each time. Most of the present buildings were rebuilt in 1855. Visitors can observe the transition of the history of architectural style and the essence of the court culture through the buildings since they were rebuilt in architectural styles of various eras from the 8th century.
Among them, the most prestigious building is the Shishinden (Hall for State Ceremonies). The building was constructed in the Heian Period style (794-1185) to accommodate the Enthronement Ceremony which was held in traditional manners. The Enthronement Ceremonies of emperors Meiji, Taishō, and Shōwa were held in the present hall and the Takamikura Imperial Throne for the Emperor and Michodai August Seat of the Empress used for the ceremony are located inside.
Presently, some of the important court events such as the Kyoto Imperial Palace Tea Party hosted by Their Majesties the Emperor and the Empress sometimes are celebrated here. The palace also receives state guests and plays an important role as a place that introduces Japanese court culture to foreign dignitaries. On the palace grounds, besides the palace buildings, are two gardens. In the main garden, called Pond Garden, a spacious pond dominates the center, and the other garden, called Inner Garden, where variously styled stone lanterns presented by some prominent feudal lords can be seen. The seasonal changes of flowers and trees are a delight for visitors to the palace grounds.
Traffic Access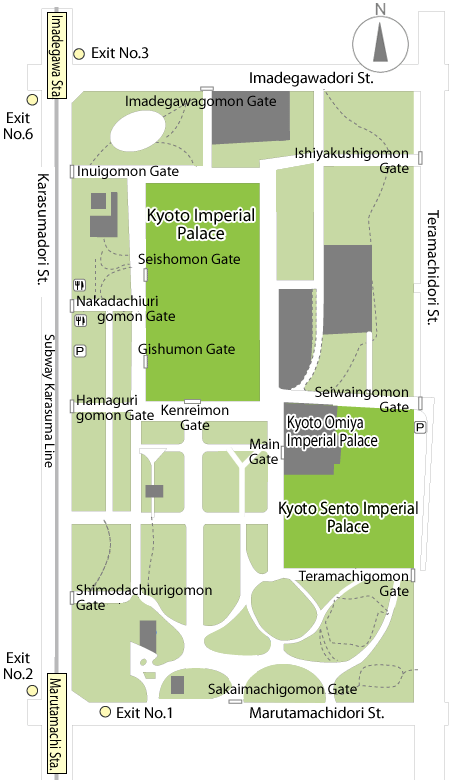 Access
Karasuma Line, Kyoto City Subway: 5 minutes from Imadegawa Station
Kyoto City Bus: 5 minutes from Karasuma-Imadegawa bus stop
Keihan Railway: 20 minutes from Demachiyanagi Station
---
Meeting Spot for the Walk-in Registration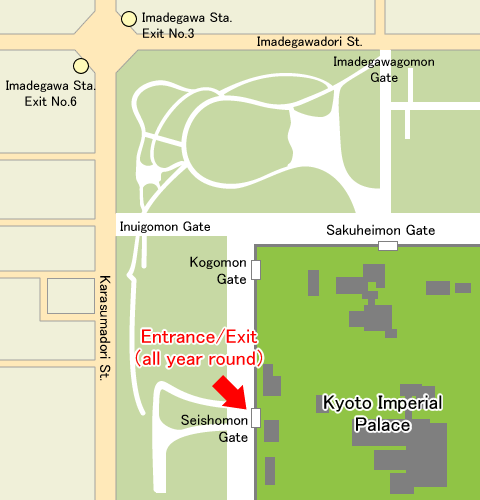 ---
Visitor Information Map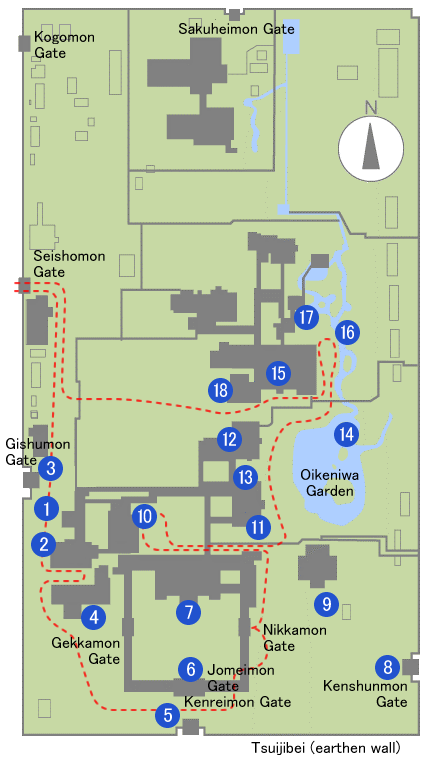 Tour Course
Okurumayose(Carriage Porch)
Shodaibunoma (Waiting Rooms)
Gishūmon Gate
Shinmikurumayose (New Carriage Porch)
Kenreimon Gate
Kairō(Corridors)
Shishinden(Hall for State Ceremonies)
Kenshunmon Gate
Shunkōden(Imperial Sanctuary)
Seiryōden(Hall for Ceremonies)
Kogosho (Palace for Ceremonies and Imperial Audiences)
Ogakumonjō (Palace for Study and Other Ceremonies)
Kemarinoniwa (Playground for Ancient Football Game of the Imperial Court)
Oikeniwa(Pond Garden)
Otsunegoten(Imperial Residential Palace)
Gonaitei (Inner Garden)・Kintai (Tea House)
Kōshun(Inner Palace)・Osuzumisho(Inner Palace)・Chōsetsu(Tea House)
Omima(Palace for Rites and Rituals )

Back to Top Page
The Imperial Palace, Kyoto Imperial Palace, Kyoto Sento Imperial Palace, and Imperial Villas
Visit Guide